• Restores Volume and Fullness
• Safe & Effective
• Minimal Downtime
• Immediate Results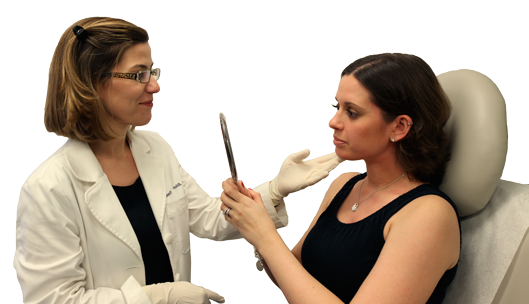 What is Radiesse ®?
Radiesse ® is an FDA-approved cosmetic dermal filler made of unique calcium-based microspheres suspended in a natural gel that is injected under the skin to instantly and safely fill and correct smile lines, naso-labial folds and wrinkles around the nose and mouth. Radiesse® restores volume and fullness to the skin correcting facial wrinkles and folds, giving a smoother, more youthful appearance.
What areas are most commonly treated by Radiesse ®?
Naso-labial folds (bottom of the nose to the corner of the mouth)
Cheek augmentation
Hand restoration
How long do the results last?
Radiesse ® is a semi permanent filler that stimulates the body to produce its own collagen. Results last approximately 18 months.
How long does the procedure take?
A treatment normally takes about 15-20 minutes, although time may vary depending upon the area being treated.
When will I see results?
The results will be seen immediately.
What are the side effects?
The side effects are transient and may include slight bruising, redness or swelling.
Everything was explained well and any questions I had were patiently answered.  I had no bruisings, and I was very pleased with my recovery. I always have confidence and faith in Dr. Smith. She is always upfront and honest.
K. H.

Radiesse – Before: 54 year old male with deep laugh lines
After: Dramatic reduction of the laugh lines resulting in a much younger appearance
Call to schedule your Radiesse ® appointment or for more information: 203-259-7709.