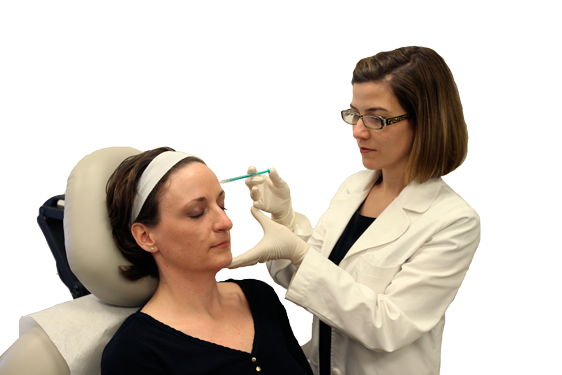 Reduces Fine Lines & Wrinkles
Safe & Effective, No Downtime, Rapid Results
Most Common Areas Treated:
• The lines that appear between your brows
• Worry lines of forehead
• Sagging eye brow
• Crows feet
BOTOX® injections revolutionized our management of facial wrinkles in the 1980s. BOTOX injections are quick outpatient procedures, with minimal risk.  Many patients select these minimally invasive injections over more traditional surgical approaches to facial aging.
BOTOX are brand names for purified proteins that are applied in extremely small doses for the treatment of unwanted fine lines and wrinkles.  They are used most commonly in the frown lines between the brows that may occur through repeated, often involuntary concentration or squinting. BOTOX are also excellent treatments for horizontal forehead creases, crow's feet around the eyes, lines on the upper lip and down turned corners of the mouth.
Where is the BOTOX injected?
Your physician will selectively place tiny amounts of the medicine in areas of the lower forehead, upper forehead or around the eyes where accentuation muscle expression exists.  Each muscle is readily visible to the skilled physician, and can be safely injected in a single session.
Are the Effects Lasting?
Treatments with BOTOX only take a few minutes.  The results are noticeable in two to five days and peak in one to two weeks.   Gradually, over a period of three to five months, the effects of the BOTOX wane. Repeat injections are performed as lines become more visible.  Successive injections may reduce the amount and frequency required for desired results.
What are the side effects of BOTOX?
The side effects from BOTOX are minimal when they are properly administered by a trained physician.  You may experience mild discomfort as the solution is injected into the treatment site, and there is a small chance of bruising. There have been no known reports of permanent side effects with BOTOX. In very rare cases, there is a temporary, slight lowering of the eyebrow or eyelid, which often goes unnoticed by the patient.
How Will I Look After My Treatment?
Immediately after the treatment, there may be mild redness at the injection site.  This resolves in a few hours. Bruising is very uncommon.
---
I had heard others rave of Dr. McBean's ability in using Botox and Juvederm so I was expecting great results based on the incredible reviews I heard from people working with the cosmetic field. Yet, the results far surpassed the results I was hoping for.
M. W.
Before & after