Hair Transplantation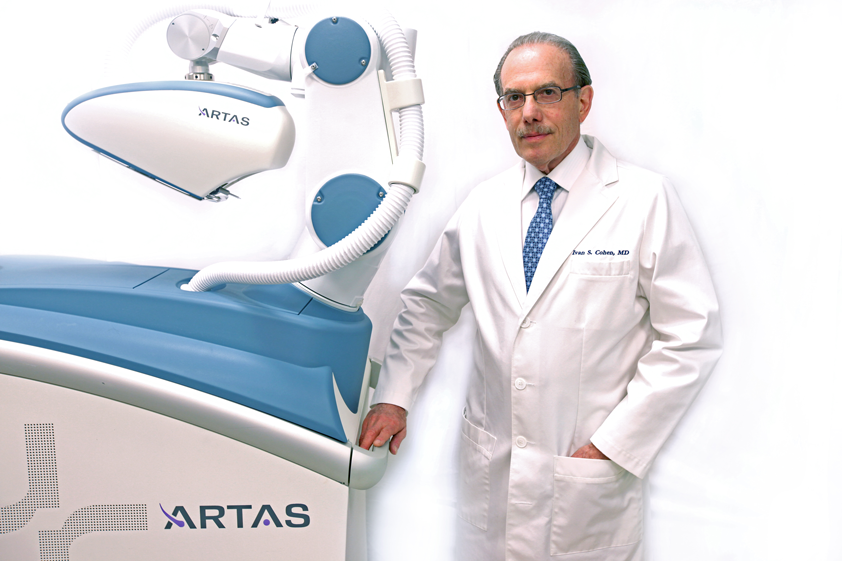 Dr. Ivan Cohen, a leader and innovator in the field of hair transplantation.
Dr. Cohen is the first physician in Connecticut to use the ARTAS Robotic Hair Restoration System to perform follicular unit extraction (FUE), a less invasive option of hair restoration surgery. Utilizing this new technology,  Dr. Cohen is able to provide his patients with the most effective surgical options available today. Dr. Cohen is dedicated to maintaining state of the art surgical techniques and sharing new information and ideas with other leaders in the field of hair transplantation.
• Dr. Cohen was among the first surgeons to utilize the microscope in preparing follicular unit grafts, which has enabled his patients to achieve the natural results they seek.
• Dr. Cohen is a regular speaker at the International Society of Restoration Surgery (ISHRS) annual meetings.  During his tenure as chairman of the ISHRS website committee, Dr. Cohen was responsible for redesigning the website to better serve its members and website visitors.  Dr. Cohen was invited to be the Workshop Program Chair for the 2010 ISHRS Annual Meeting in Boston, Massachusetts.   He has also been an invited speaker and faculty member at the Live Hair Transplantation Surgery Workshop in Orlando, Florida.
• The New York Times has profiled Dr. Cohen and his work in featured articles. He has been featured in Men's Health Magazine, Prevention Magazine, Connecticut Magazine, The Connecticut Post, and was recognized as one of the top 15 Hair Transplant Surgeons in North America by Town and Country Magazine, Connecticut Magazine has reported on Dr. Cohen's transplant surgery, as well as Fairfield County Living Magazine.
• He has been featured on the Today Show, CNN, WFSB, NBC, Channel 12 and National Public Radio (NPR).
• Dr. Cohen is a contributor to several dermatologic textbooks; including  "Dermatologic Surgery", and "Primer in Dermatologic Surgery.
• His work has been published in scientific journals including;  Hair Transplant Forum International, Journal of Dermatologic Surgery, Seminars in Dermatology, Archives of Dermatology and Journal of Geriatric Dermatology.

For more information, visit:

Center for Hair Transplantation

https://www.youtube.com/watch?v=iOQF63TARQk&feature=emb_logohttps://www.youtube.com/watch?v=tF_wo4wpysk&feature=emb_logo
For more information, visit: